All About Rolex
Shop Pre-Owned Rolex
Watches
January 14 2017
---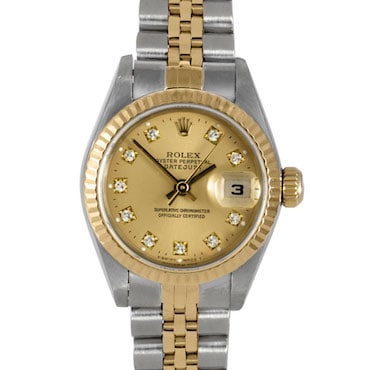 What makes Rolex watches exceptional in quality?
Rolex SA produces approximately one million luxury watches every year, but unlike watches from other large manufacturers, each timepiece is almost entirely assembled by hand. Rolexes were the first wristwatches to earn chronometer certification, and their expert precision makes them a staple of timed sporting events.
The glossy smoothness of Rolex watches comes from the unmatched quality of 904L steel, which isn't used by any other watchmaker in the world, as of 2016. The metal is expensive, highly resistant to corrosion, and difficult to manipulate, but it helps every Rolex keep its signature polish for decades.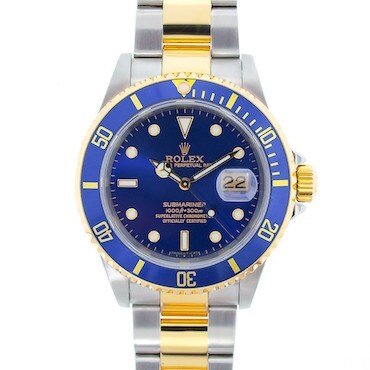 What are typical prices of Rolex watches?
Rest assured, Rolex watches are available at wide-ranging price tiers, depending on factors such as the case and band material, the amount of ornamentation, and the chronometer complexity. The least expensive models in series like the Rolex Explorer and Rolex Datejust start around $5,000 to $8,000, or under $3,000 if pre-owned. Rare and culturally iconic watches, such as the 1973 Rolex Submariner donned by Roger Moore in "Live and Let Die," can exceed $500,000, but more commonly, you can expect high-end Rolexes for $10,000 to $50,000.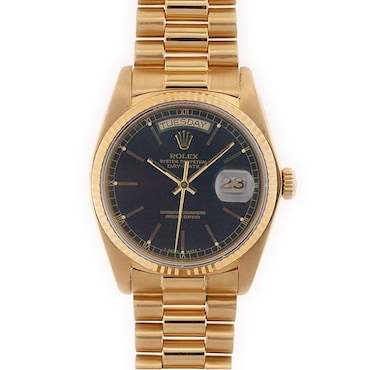 What materials does Rolex use?
If you appreciate sleek basics, start your collection with a stainless steel or yellow or white gold-filled watch, which features a layer of gold bonded to an alloy. Stainless steel and platinum or white gold offers a bright polish, while the two-toned look of stainless steel and yellow gold lets you accessorize like a celebrity. At the middle tiers, you can find rose gold, 18-karat pink gold, or gold shell. If you're a high roller with a taste for fine materials, shop for Rolex watches in platinum, 14-karat yellow gold, 18-karat yellow gold, or 18-karat white gold.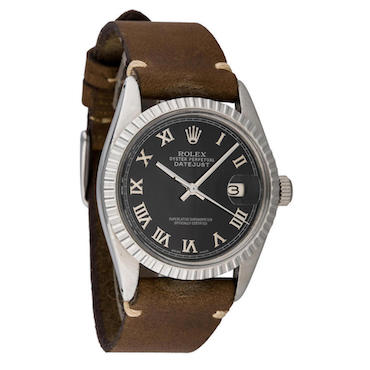 What Rolex watch band styles are available?
For many connoisseurs, the distinguished appearance of a Rolex band around the wrist is almost as important as the timepiece dial, as it influences the sporty or dressy look of the watch. A best-selling option is the Oyster style, which features flat, three-piece links for a sleek professional look. With their rounded five-piece links, Jubilee bands capture the refined look of a bracelet, while President bands merge the domed shape of the Jubilee style with the handsome simplicity of a three-piece link. Other Rolex styles include the Pearlmaster, which features flat, five-piece links, and leather, which comes in multiple colors and textures.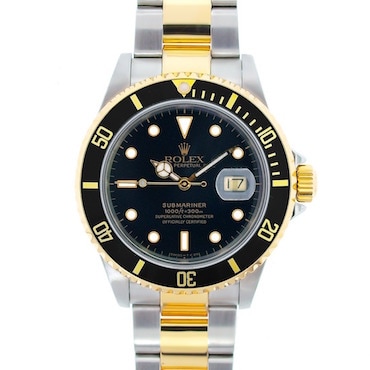 What are popular features of Rolex watches?
Decorative elements are where your personality and daily style come into play. A diamond bezel or dial markers can be flashy or formal, while geometric-shaped markers on a solid face can be casual or sporty. Rolex is known for its classic dials, many of which are inspired by nautical settings, racing, aviation, exploration, and royal opulence. A long-standing best-seller, the Rolex Daytona, is known for its cosmograph dial displaying sub-units for timing races. Most Rolex watches are self-winding, and they're all pressure-tested for water resistance. The most advanced dive models, like the Submariner, can survive about 300 meters of submersion.
What should I look for when buying a pre-owned Rolex?
With Rolex watches highly coveted around the world, counterfeit products are becoming more sophisticated and difficult to spot. When shopping for used Rolex watches, choose a reputable seller with a positive track record, and request documentation of the serial and model numbers with your purchase. The numbers are also finely cut into the watch, and an authentic Rolex always displays the manufacturer name and crown logo on the dial. Pay close attention to any provided photos, as heavy degradation is rare on Rolex's ultra-damage-resistant steel.